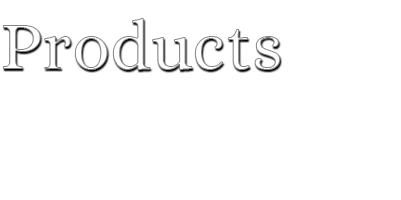 Welcome to my Products page. I have personally selected each product for effectiveness and ingredient cleanliness. What we breathe, what we eat and what is on our skin, becomes a part of us, and is in our bodies. Sickness or disease is the body's way of telling you it's on overload. My objective is to provide you options that support your body, not undermine it. To understand more look at the "Genetics and Environment" page on my website.
My objective in choosing to share these products is to support you in getting and staying healthy. Our choices, our emotions and our environment affect our health. If one is dealing with serious disease like cancer, it is even more critical to be careful of the products we eat and use, and the environment in which we live.
More products will be added over time so check back regularly. Amongst what I add will be "clean" cosmetics, effective probiotics with substantiated claims of potency and anti-bacterial/anti-viral/anti-fungal products with no side effects, cleaner food products and more. Cancer is believed by many to be a virus so it is important to have an anti-viral with no side effects. Colds are also viruses. I will identify anti-virals for you too.
CONSULTATIONS
I consult worldwide on:
a. getting and staying healthy
b. conquering cancer by addressing the whole person, since cancer is chaos that the body has not been able to control. We address the chaos and the multitudes of variables that contribute to cancer. We also address "causes" of cancer by integrating healthier approaches into whatever approach someone is working with, ie conventional medicine, complementary, alternative, integrative
See my Consultations page to learn more about our consultations.
HAELAN –
It is important to know how to maximize Haelan's benefits . Haelan is ordered through me. I tguide my clients on a complementary basis in order to support you in your healing journey. I ship Haelan worldwide because cancer and health know no geographic boundaries.
Look at the Haelan Research and Testimonials page under Products for more information, studies and articles.
BIOMAT –
I have owned Biomat for many years because of the health benefits it provides me. When I realized how extraordinary the benefits were, I incorporated Biomat into my health and life coaching practice to make it available to my clients.
Biomat makes being healthier so easy. You can be sleeping, driving, sitting, on the computer or even watching tv and you will be receiving benefits. One sits on the Minimat, lies down on the larger mats or wraps the Biobelt around themselves.
Biomat benefits for health and anti-aging are extensive. Poor health on any level is a "symptom" of a body's imbalance. For long term health, it is essential not to band-aid the symptom. It is essential to address the "causes" of the imbalance. Biomat technology is FDA approved and addresses the "cause" of health issues, ie pain, poor sleep, inflammation, poor circulation, poor detoxification or poor lymphatic flow, low moods and more. Although easy to use, proper guidance is important for you to achieve the most benefits.
You can learn more by:
1. looking at the Biomat website:
2. calling Adrea and
3. reading "About Biomat" and the "Biomat Testimonials" on the "Product" page of this website.
Disclaimer: These statements have not been evaluated by the Food and Drug Administration. (FDA) The information and products provided on this educational website, and its links, and in our consultations, conversations emails and all communications, are not medical advice. All is for informational purposes only and not intended to diagnose, treat, cure nor prevent any disease or health situation. For medical advice, diagnoses, treatment and evaluation, consult your chosen licensed physician or other health care professional. Thank you for supporting my work. Small commissions are provided by companies when products are purchased through the links on my website.