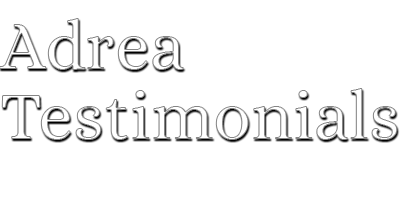 3/2018 Sausalito, California
When my best friend was afflicted with breast cancer for the second time 20 yrs ago I had a front-row seat to the devastation that traditional treatments can cause.
Thank you for being a pioneer for all of us.
xo
Patti
NOTE FROM ADREA: My integrative personalized approach supports and synergises with whatever approach you choose: ie conventional medicine, integrative, complementary and alternative.  The objective is to successfully overcome any current health issues and protect you for the future.
Remember that cancer and disease are  "symptoms" of imbalances and chaos in the body.  We must focus on the "causes" of that imbalance.
It is essential to employ all the tools at our disposal and personally tailor them to your situation. A few of those powerful tools are mentioned on this site.  There are important others that we will discuss and from that discussion, we will empower you so you can choose the path that best supports you.
————————————————————————————
3/2018 Canada (since 2015, still healthy)
Hi Adrea,
Thank you for all you did for me. I am very grateful for your empathy and integrity.
Thank you for (reaching out years later and) thinking about me and my health.
Carmen
————————————————————————————-
2/2018 England
I'm out and about have energy and feel like i can see the world through a clear head again. Cant believe I had chemo on Wednesday!!!
After weeks of feeling awful and laying on the sofa I'm now out driving again, had my horses out competing today and my friends and family cannot believe the difference.
My next points of call are what we discussed in consultation.
Thank you so much. I'm a happy bunny!
Andrea
———————————————————————————–
February 2012 (still very healthy December 2017) Wales
We wish you a Very Merry Christmas and A Happy and Healthy New Year.
Another year has passed. All is well with us the latest blood results. They were normal again
We thank you once again for your support. We are truly grateful for all that you do for not only us, but other people around the world. It will be five years since I was diagnosed with the liver cancer in February 2012 and without your support and advice we would not have made it to enjoy another Christmas.
Keep up the good work that you do.
Our love and best wishes
David and Julia
——————————————————————————-
2013 (Still very healthy December 2017) United Kingdom
The greatest gift that she provides you with is that of empowerment. It is great to feel in control of ones health and that is only possible if one knows they are doing the right thing for overall health and well being which comes from well informed choices.
Adrea Brier is truly inspirational and a very sincere and giving therapist. I am blessed that she has stepped into my life and I have no hesitation in my recommendation and support for all her work and commitment to holistic health.
Yours sincerely
Hazel
———————————————————————————-
November 2015 New York City
Thank you so much. You are so dedicated. You make a difference in many people's life, and certainly in mine. I am very grateful, everyday.
Carmen
———————————————————————————–
June 2015 Wales
I have just had the results of the latest 3 monthly blood tests that my medical centre carries out for me.
Of the 9 different liver tests that they do, 8 are normal and 1 has a slight elevation. It should be at level 41 and it was showing a level of 45, but my doctor informed me that when I was diagnosed the level was nearly 200 so he is very pleased with it and there is no reason to worry over it. All the other tests were normal and that I was in vey good health.
(My doctor) has no objections if I go down the alternative road.
I am feeling very good and we had a lovely weeks vacation in Germany last week meet old friends and intend to go to France in a few weeks to meet other old friends and the end of year visit to Spain is also booked up.
We both hope that you are well and once again our thanks for your input into this result.
Our love and best wishes
David and Julia
———————————————————————————–
July 2015 Canada
It has been about 9 months since I "met" you through ordering Haelan. In that time, were I younger, I could have been having a birth of a child about now; however, I have had the birth and development of a wonderful relationship which I value very much. You are more than a representative for Haelan 951 and Biomat. You are professional and very knowledgeable in both but you are more than that. Your frequent follow up shows that you care deeply about your "clients". You reply to emails immediately both in reference to Haelan and Biomat and are very generous with your information. I am thankful for all the "extras" you have done for me. I especially appreciate your positive attitude and continuous support through this healing process. You have been one of my best supporters….someone I never met in person, but someone I know is passionate about what you believe and someone who is on a misson to help others. Somehow it seems that you follow up just at the right time, reminding me that all will be fine and I have the power to heal when I believe in myself. As you know cancer is not an easy journey to go through especially if one takes the conventional route.
Those of us who order Haelan through you are so blessed to have the ability to connect with the Company Haelan 951 should the need arise; between both you and the company the care and support is next to none.
In all my years I have never had the opportunity to be in touch with such approachable people that are in the "health care business".
Haelan 951 is fortunate to have you as a representative and you are fortunate to represent a company that genuinely has the clients' best interests at heart, but the biggest winners are people like me that need your help. I cannot express my gratitude to both enough times…..many, many thanks.
Anne
———————————————————————————–
November 2014 Toronto
Thank you for everything you did for me and for all you do for "all of us".
I can never stress enough times that I am so grateful to you for your support.
I feel so blessed to have found you!!!
Ann
———————————————————————————–
2014 Wales (still healthy and strong in 2018)
Julia and myself were having a pow wow last night and discussing the happenings
of the last year as it is nearly one year since the diagnosis that I had terminal
cancer in the Liver, Bone and glands, and I was told that I had a few months left
in this world. It was the lowest point of our lives and we will never forget the
waves of despair and agony that came over us. As you know there was no positive
input from my medical practice only painkillers with which I was having problems and
then the sickness which gave me more problems. Julia and I decided to come off
the drugs and we found a Holistic Cancer Centre where the positives started to kick
in. Things progressed well but I felt that I needed something more and that
is when I was recommended to contact you by Hazel T. You introduced me to
Haelen 951 which has taken me to a higher level again. Having lost 50lbs of weight
I have now put on 23 lbs and this is due to the Haelen. It has also given me so much
strength, so much that I can now mow my lawns and do jobs around the house. We have just returned from a 2 week vacation to Spain and I was walking 3 miles some days,
I was reading an article about Pierce Brosnan the actor in which he states as follows:
I have learned that of all the luxuries the world has to offer the most precious of
all is time,
Time to watch the sunset,
Time to be with the ones you love
Because there really isn't very much of it.
Julia and I would like to thank you Adrea from the bottom of our
hearts for the time you have given us, through your support and
advice, but most of all for introducing us to Haelen 951.
Thank you for being our friend.
Our love and best wishes
David and Julia
———————————————————————————————
October 2014 Canada
You have become one of my "angels". The positive attitude that you relay, the reminders which I appreciate, and your passion are most helpful to me and are very much appreciated.
Anne
———————————————————————————–
August 2014 United States
You are a Blessing. Thank you so much for all your help, may God Bless you richly for your kindness and your dedication to helping others to get well.
Sally
———————————————————————————–
December 2013 New York
I began my health healing journey in 2010. Along this journey I have met great people but Adrea by far is a very special person to me. She is knowledgeable, caring and compassionate. She experienced first-hand cancer and used Haelen and the Biomat to heal herself. It's been two months since I began taking Haelen and Adrea has been with me every step of the way.
What I find most unique about Adrea is she is not just selling another miracle health cure, she is giving me hope. She always finds time out of her busy schedule to follow up on how I am doing. One time I remembered she called me while she was out on a date. That speaks tremendous volumes about how dedicated Adrea is to support you to heal. Being a Cancer patient myself, I am extremely careful in recommending products or a services to people. I know I am dealing with someone's precious life.
I've been very close to death myself because of one wrong turn in my health decision so I take that very seriously. I learned several important lessons when looking for cures for cancer. One of them is, where you get your sources from is crucial. Finding good sources whether it comes from a doctors, articles or/and word of mouth is extremely important.
Finding Adrea from Thriving Health and Wellness was a gem. She is incredibly knowledgeable and very well connected in the health and wellness arena. That's the kind of person YOU MUST have guiding you. If anyone reading this note has any doubt about Adrea's services, I recommend you just give her a call. You will be soon writing a similar note expressing your gratitude towards Adrea. I am so grateful and better off today because of her.
With Adrea you get more than just an excellent product, you have a friend who is compassionate and determined to get your health back on track.
Maritza
Would you like a health advocate?
I am your health and life coach, and integrative consultant in conquering cancer .
We have a team to support you.
I am here to help you to Live Your Life!, as a person successfully dealing with health challenges, not as a patient trying to squeeze in "living a life".  We each differ and need a personalized approach to our health.   My objectives are to empower you so your life and health journeys are successful.   I and my colleagues will support you.to retain or retrieve your health, whether you are working with conventional, integrative, complementary or alternative approaches.
Is your body's own healing activated?
The body is a self-healing mechanism and works best when given the right tools.
The body knows how to heal when the "interferences" are removed and the tools are provided. Our mission is to address the multiple "interferences" specific to your life that contribute to dis-ease and cancer. You will be empowered to take effective action, targeted to your situation. You will have more knowledge with which to evaluate options and make better decisions for your current cancer episodes and to protect yourself for the future.
Disclaimer: These statements have not been evaluated by the Food and Drug Administration. (FDA) The information and products provided on this educational website, and its links, and in our consultations, conversations emails and all communications, are not medical advice. All is for informational purposes only and not intended to diagnose, treat, cure nor prevent any disease or health situation. For medical advice, diagnoses, treatment and evaluation, consult your chosen licensed physician or other health care professional. Thank you for supporting my work. Small commissions are provided by companies when products are purchased through the links on my website.