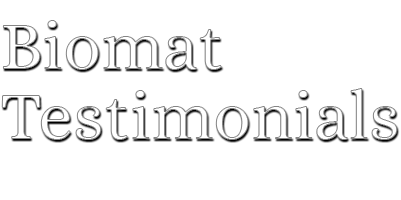 August 2016 Mississippi
Dear Adrea
I am so sorry I didn't buy my Biomat from you. Do not know how to use it and have gotten
little help from my dealer.
Jane R.,
Note from Adrea:
Biomat is profound deep far infrared and negative ion technology. When clients purchase Biomat products from me, I guide them at no charge so they can maximize the benefits. Biomat is an effective FDA approved medical device
——————————————————————————————–
(The man who wrote the testimonial below went through multiple life threatening emergency surgeries in a few days. He was not expected to live. His Naturopathic Doctor recommended the Biomat products to him.)
"About a month ago, I was introduced to the healing concept of the BioMat. So, I chose to purchase the Mini Mat.
That size works best for me, when I am laying down or sitting up in a chair.
The first thing I noticed is the all over warmth that is delivered. Also, the relaxation, and release of the daily aches and pains. It has made SUCH a difference for me in less than a week!!! I am now sleeping through the night,
I have no more aches and pains, I have more energy, feel more rested and I know it is assisting with detoxing and rejuvenating on a cellular level. I highly recommend this product, for its healing abilities and the craftsmanship which has gone into making it.
JAMES S. (Australia)
—————————————————————————————–
"I first tried the BioMat when having a Shiatsu massage and I was hooked. The Biomat is fantastic it warms, relaxes, & is soothing for your body. I use my Biomat while watching TV, reading or before bed and I feel calmer, more relaxed and can drift off into a restful sleep. I love my Biomat this is one of the best purchases I have ever made!"
– Tracey K.
——————————————————————————————–
"I had lower back pain for twenty years which limited my movement and therefore my activities. I also have arthritis in my knees. I bought a Biomat and after sleeping on it at night for a couple of weeks I was pain-free. I found I was doing things with ease that usually left me in pain and after a month I had much more freedom of movement. I had been taking supplements for my knees to keep them pain-free but with the Biomat I no longer need the supplements. I also find that I am sleeping at a more restful and deeper level. I wish I had known about the Biomat years ago. I just love it."
– D. Ross
——————————————————————————————–
"My mini-BioMat has markedly improved my quality of life. I am so glad that I got one. It has become a permanent fixture in my living room, and I really look forward to spending time with it every day."
– Amber W.
——————————————————————————————–
"After the first month I noticed my Biomat making a tremendous difference, I'm much more energetic and active now. The aches and pains from years of muscular discomfort, fatigue and worse, are fading away and the peaceful sleep I now have at night is making my life calm.
Would you like a health advocate?
I am your health and life coach, and integrative consultant in conquering cancer .
We have a team to support you.
I am here to help you to Live Your Life!, as a person successfully dealing with health challenges, not as a patient trying to squeeze in "living a life".  We each differ and need a personalized approach to our health.   My objectives are to empower you so your life and health journeys are successful.   I and my colleagues will support you.to retain or retrieve your health, whether you are working with conventional, integrative, complementary or alternative approaches.
Is your body's own healing activated?
The body is a self-healing mechanism and works best when given the right tools.
The body knows how to heal when the "interferences" are removed and the tools are provided. Our mission is to address the multiple "interferences" specific to your life that contribute to dis-ease and cancer. You will be empowered to take effective action, targeted to your situation. You will have more knowledge with which to evaluate options and make better decisions for your current cancer episodes and to protect yourself for the future.
Disclaimer: These statements have not been evaluated by the Food and Drug Administration. (FDA) The information and products provided on this educational website, and its links, and in our consultations, conversations emails and all communications, are not medical advice. All is for informational purposes only and not intended to diagnose, treat, cure nor prevent any disease or health situation. For medical advice, diagnoses, treatment and evaluation, consult your chosen licensed physician or other health care professional. Thank you for supporting my work. Small commissions are provided by companies when products are purchased through the links on my website.